This shop is part of a social shopper marketing insight campaign with Pollinate Media Group® and EQtainment, but all my opinions are my own. #pmedia  #Qsracetothetop http://my-disclosur.es/OBsst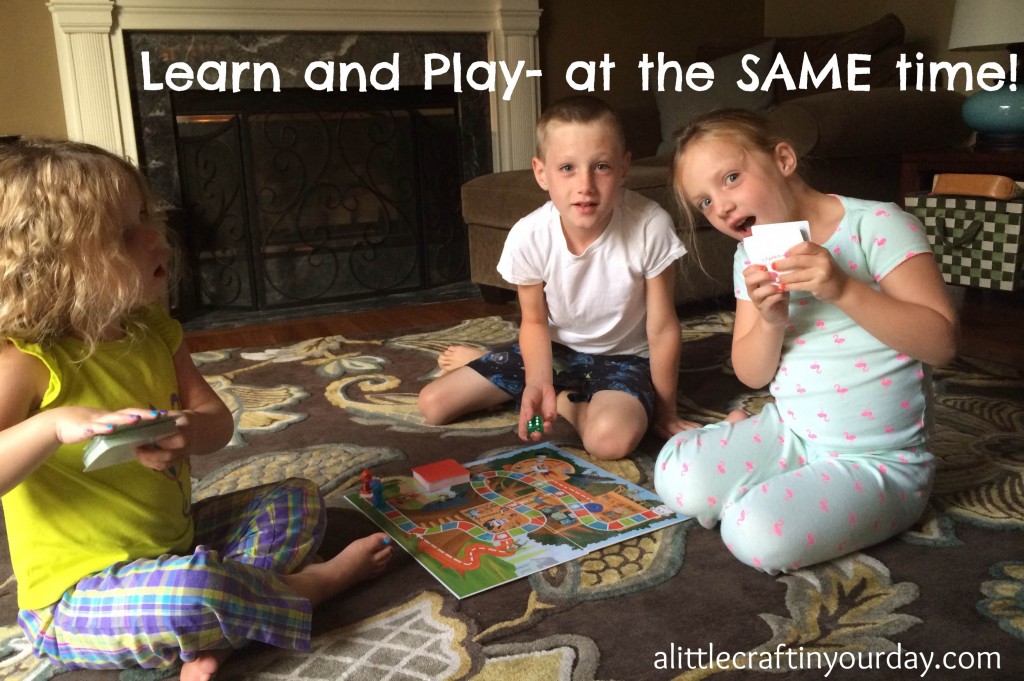 Have you ever heard of EQ? I like to think of it as emotional intelligence including skills such as 
self control, motivation, empathy, and social skills. These skills are so important to a child's development and not always part of their curriculum at school. But don't worry; there is still hope! With EQtainment and the new Q's Race to the Top Board Game you can practice these skills with your child during family game night without them even knowing.
I like to bring things to do with me when I babysit. Sometimes I bring crafts, books, but when I brought Q's Race to the Top the kids went crazy. They call it "The Monkey Game" and want to play again almost every time I babysit now. We have played a lot of bored games together and it to be honest we never finish; they get board after 10 minutes and we move onto the next game, but not Q's Race to the Top. We played for over an hour and had a great time, sooo many laughs. It is honestly was such a special moment that will stay with me forever and when I have kids of my own, I hope to have moments just like the one we had playing the Q Wunder board game.
As you may have seen on instagram, I called dibs on the the purple little monkey piece, or in other words the kids called dibs on the other colors and I was left with the awesome purple dude.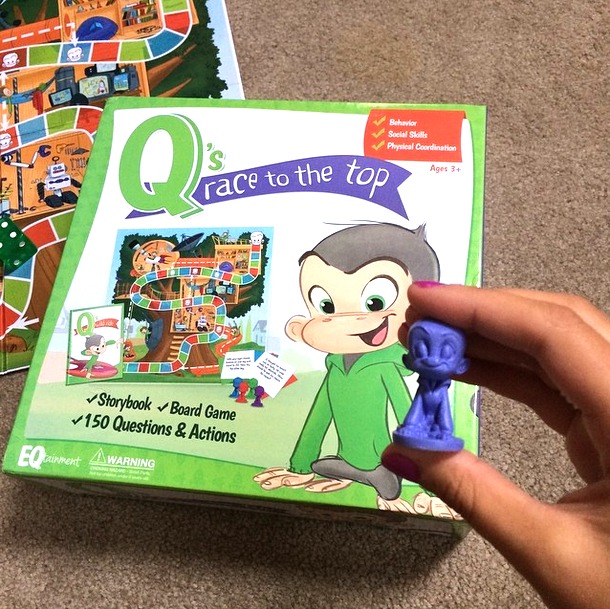 Here are some of the cards. The red cards are action cards, the blue cards are question cards, and the green cards ask the kids "what should Q do" questions.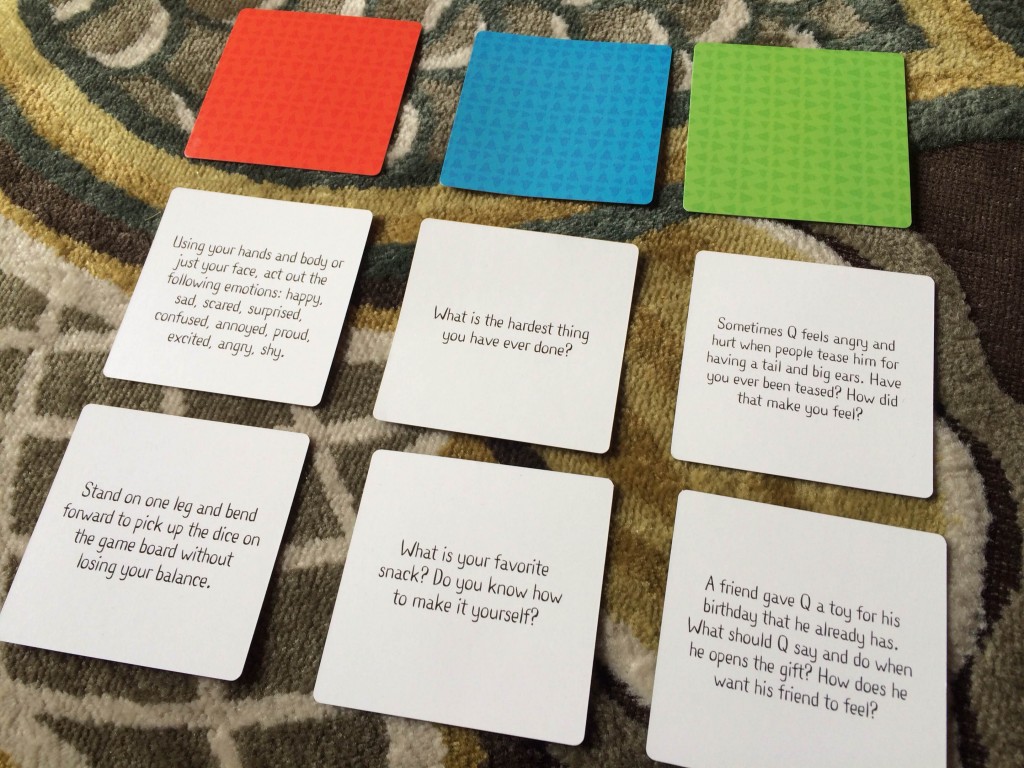 The kids LOVE the red cards and all join in when one person picks the card. To be honest though, my favorites are the blue cards. I love hearing their answers and I thought I would share some of them with you.
 "What does brave mean, Claire?" "Brave is like when you are scared like when a bee stings you and you cry and get a band aid."
"What is your favorite snack? Do you know how to make it your self?" "I like Mac and Cheese. I get a bowl, put the macen in and then put the cheese in and put it in the microwave."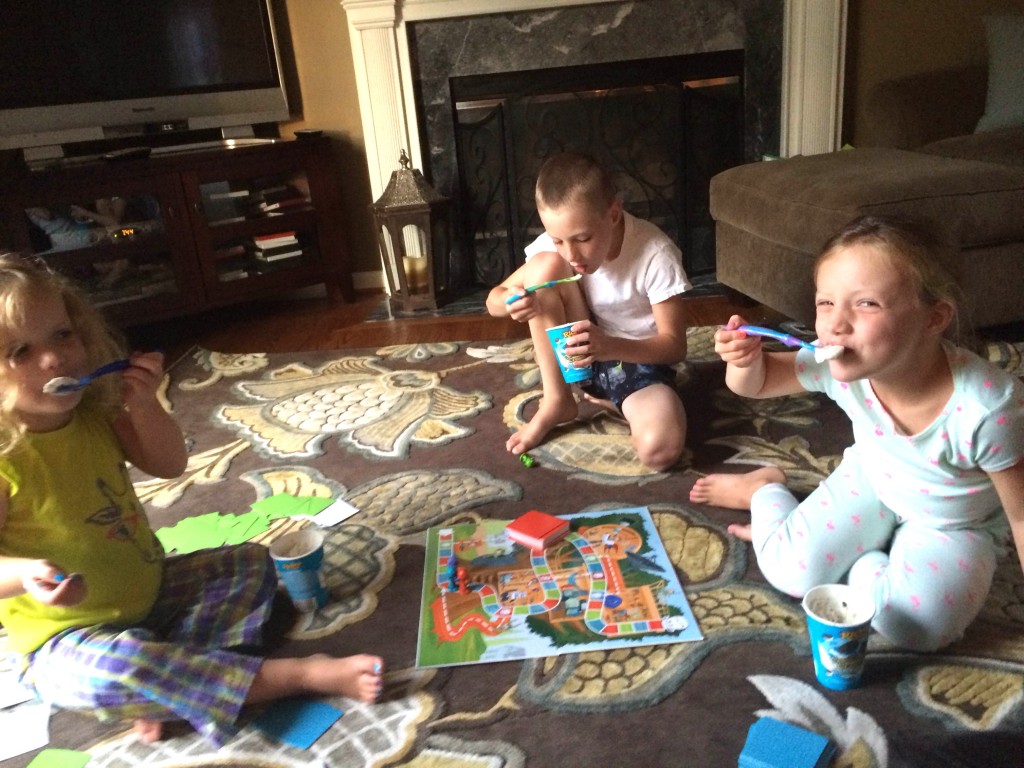 We were all having so much fun that they didn't even want to take an ice cream break. Don't tell mom that we ate in the living room! Shhhh…
I captured some of the fun and laughs in this short little video of Jack doing on of the red card actions, but I'm telling you Keira laughed like that for an entire hour!

EQtainment is running a Kickstarter and you should definitely go check it out. At least go and watch the video to learn more about it. But by making a donation, you can be one of the firsts to own the game and for less than retail price too! So be sure to check that out HERE.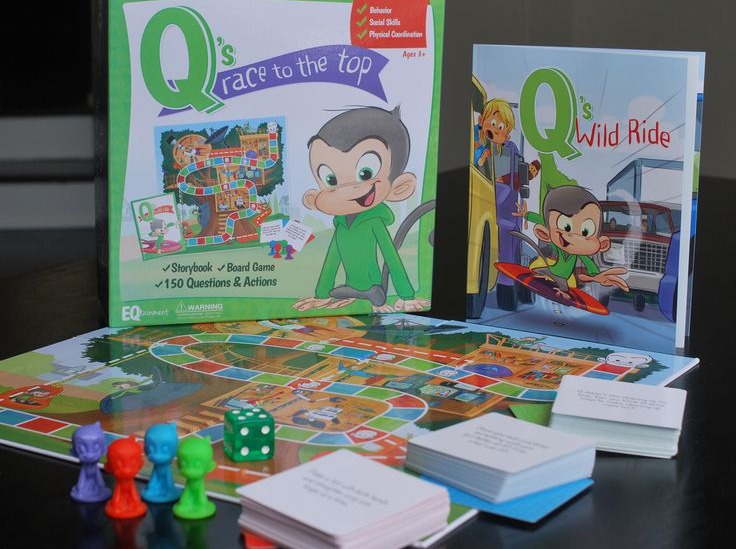 For more EQ fun go ahead and follow EQtainment on social media!
Facebook
Twitter
Instagram
Pinterest